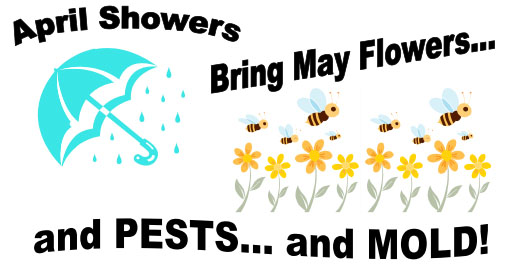 Did you know?
Such an innocent rhyme could be misleading in so many ways. Spring is here, and the month of rain has just ceased, so what exactly are we left with? This ageless rhyme wants us to believe that beautiful flowers are the result of dreadful rain, that with struggles come rewards, but that is not always the case.
The truth of the matter is that with rain comes moisture and with moisture comes disaster. Rain has forever been a key contributing factor in the development of moisture, and once moisture has seeped its way into your building, there is no telling of the damage that it can do. Moisture can become the breeding grounds for all sorts of problems, above all pests and mold infestations.
Let us provide you with peace of mind this spring season. Call us today for your free consultation with no obligation.
Call today for a free consultation!
Licensed Pest Control – Certified Mold Inspections, Testing & Removal
Titanium Laboratories, Inc.
877-7 TITANIUM
(1-877-784-8264)
www.TitaniumLaboratories.com