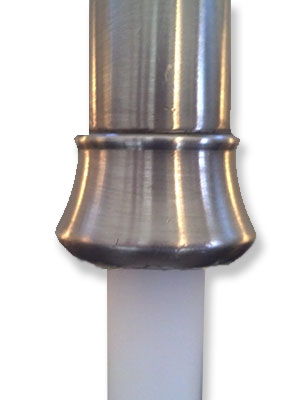 Our Environmental Specialists at Titanium Laboratories, Inc. provide water testing for drinking water to check the safety of your home's drinking water or your building's drinking water.
Prior to taking water samples on site, a visual inspection will be provided.  By collecting any pertinent background data, as well as observing several factors within the house or building, we are gathering clues that may affect the quality of your drinking water.
Common water testing for drinking water elements:
Culturable fungi including speciation of Pencillium, Aspergillus, Cladosporium, and Stachybotrys
Bacterial speciation – identification and enumeration of culturable bacteria (5 most prominent)
Sewage Screen:  sewage contamination (Total Coliform, Fecal Coliform, E. Coli, Fecal Streptococcus)
EPA's established National Secondary Drinking Water Regulations:  Nuisance Chemicals listed below with their potential effects when exceeding the Maximum Contaminant Levels (MCL)

Aluminum (colored water)
Chloride (salty taste)
Color (visible tint)
Copper (metallic taste and/or bluish-green staining)
Corrosivity (metallic taste and / or stained fixtures, corroding pipes)
Fluoride (tooth discoloration)
Foaming Agents (frothy drinking water, clouding drinking water, bitter taste and / or odor)
Iron (rusty color, sediment, metallic taste, staining red / orange in color)
Manganese (black / brown color, black staining, bitter taste, metallic taste)
Odor (foul odors, musty odor, chemical odor)
PH (Low PH:  bitter taste, metallic taste, corrosion / High PH: slippery consistency, deposits, soda taste)
Silver (grey coloring in white parts of eyes, skin discoloration)
Sulfate (salty taste)
Total Dissolved Solids (TDS) (deposits, "hard water", discoloration, staining, salty taste)
Zinc (metallic taste)
For more information about safe drinking water, visit the EPA's web page Current Drinking Water Regulations
Why would someone need water testing for drinking water?
If your drinking water is discolored, cloudy, or smells/tastes "off", that may be a reason to consider a professional drinking water test.  Other reasons to call in water sampling would be following any event that could contribute to contamination of your drinking water such as a flood, sewage backup, disturbance by outside factors such as construction, or suspected mold growth.
Your water investigation will begin with a site evaluation, collection of background data and water samples.  The samples are promptly submitted to one of the country's leading accredited laboratory for analysis.  Upon receipt of your results, Titanium Laboratories will provide you with a full report.  You can expect your report to contain documentation of the site investigation and background data, documentation of the water samples collected for analysis, a full interpretation of the laboratory water analysis, copies of the actual laboratory reports, and a final assessment.  Most importantly, you will also receive recommendations to make corrective actions to resolve any potential contributing factors towards your water contamination issues.
Call Titanium Laboratories today for more information if you need water testing for drinking water, and we'll provide you with a free consultation.
Yesteryear's Service. Tomorrow's Technology. Call Titanium Today!
1 877 7 TITANIUM

---
Environmental Consulting | Water Test | Testing Well Water | Well Testing | Well Water | Water Testing NJ | Water Quality | Drinking Water Testing