We Kill Bed Bugs!
Titanium Laboratories' experienced bed bug exterminator uses the latest bed bug control technology available to kill bed bugs quickly, efficiently, and at very competitive rates. We begin each bed bug service with a thorough bed bug inspection. Upon finding bed bugs or evidence of bed bugs in your home or building, our bed bug exterminator will outline the most efficient and cost-effective bed bug treatment for your specific situation.
Read some of our customer testimonials about our bed bug removal service. You can feel confident that Titanium Laboratories can take care of your bed bug problem, too.  Contact Titanium Laboratories, Inc. today if you suspect that you have bed bugs and we'll provide you with a free telephone conversation, and a quick estimate.
Commercial buildings such as condos, co-ops, hotels, hospitals, and nursing homes present unique challenges in killing bed bugs, and preventing further infestations.  Titanium Laboratories' bed bug exterminator can help your building get your bed bug infestation under control and contain bed bug infested units to help prevent bed bugs from infesting adjacent rooms and / or units.  Visit our Commercial Bed Bug Exterminator page for more information.
Residential homes and apartments continue to see an increase in bed bug infestations.  If a bed bug infestation presents itself your private home, Titanium Laboratories' bed bug expert can often resolve the bed bug inspection in one visit.  And, as in most cases, you do not need to throw out your furniture or bed bug infested mattress.  Visit our Residential Bed Bug Exterminator page to find out how we can help you get rid of bed bugs from your home.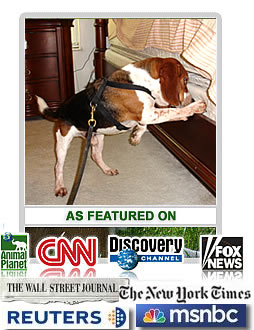 Bed Bug Dog
Certain cases call for specific solutions, such as a bed bug K-9 unit.  If a bed bug dog is right for you, Titanium Laboratories will schedule a certified bed bug inspection using a certified bed bug dog.
K9 Bedbug Detection with a NESDCA certified and J&K Canine Academy trained bed bug dog
A certified bedbug dog is around 96-98% accurate in finding bedbugs and/or bedbug eggs and is a great alternative to a visual inspection by a pest control professional. Scent detection dogs will only find LIVE bedbugs and eggs so a proper treatment can be performed with the least amount of chemicals, disruption, and inconvenience. The K9 Team helps to eliminate unnecessary spraying and treatments, cutting down the exposure to pesticides.  Contact Titanium Laboratories today to find out if a certified bed bug dog is right for your bed bug situation.
Bed Bugs NYC
NYC is labeled as one of the top bed bug infested cities in the United States.  Due to increased international travel and population density, it's no surprise that large cities such as New York City top the bed bug infestation charts.  In fact, the New York Department of Health provides an excellent bed bug guide, Preventing and Getting Rid of Bed Bugs Safely, to help NYC residents contend with bed bugs.  Titanium Laboratories recommends referring to this comprehensive guide for useful bed bug information.
As a state licensed pest control operator, Titanium Laboratories has been killing bed bugs long before they became the superstar of media attention.  Read our customer testimonials to see Titanium Laboratories is one of the most successful bed bug exterminators in the area.
If you suspect that you have a bed bug infestation, contact Titanium Laboratories today for a free telephone consultation and a free estimate.
Yesteryear's Service. Tomorrow's Technology. Call Titanium Today!
1 877 7 TITANIUM

---
Bed Bug Control | Bed Bugs NYC | Kill Bed Bugs | Bed Bug Exterminator
NJ Pest Control | Pest Control NY | Pest Control NYC | Exterminator NYC | Bug Exterminator | Exterminator NJ | Pest Exterminator