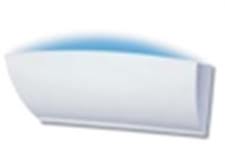 Fly Monitoring and Trapping
Professional Size Wall Sconce Lure Trap Enables You to Kill Fruit Flies and other Fly Species in a Discreet Pest Management Method
Titanium Laboratories uses a fly trap that is nearly twice the size, output and trapping area of older popular models. Disguised as a wall sconce light fixture, this wall sconce lure trap is not only effective, but attractively finished.  It can be easily customized with paint or wallpaper to match your decor.
Ideal for "front of house" where insect control should be discreet and the use of a traditional fly killer would be inappropriate.  The unit uses the traditional blue ultra violet light attraction method.  Insects are most attracted to ultra violet light emitted at 350 nanometers and the blue tube still emits far more ultra violet at this level than any other tube.  The unit utilizes a full 30 watts of power with its TWO 15 watt tubes, and plugs into a standard three-prong outlet.
Also, the light blue emitted creates an attractive ambience for all types of environment.
The wall sconce lure trap uses a new glue board trap which silently enables you to trap fruit flies and other flying insects safely out of the view from the public. The trap utilizes a specially developed glue formula specifically designed for the entrapment of flying insects.   It retains its adhesive qualities for up to 5 weeks and is changed simply and hygienically in a matter of seconds.
Kill Fruit flies and other flying insects by trapping them before they are noticed by your customers.
Yesteryear's Service. Tomorrow's Technology. Call Titanium Today!
1 877 7 TITANIUM

---
Commercial Fly Pest Control | Residential Fly Pest Control