Titanium Laboratories' Green Pest Solutions is perfect for you if you prefer a chemical-free option.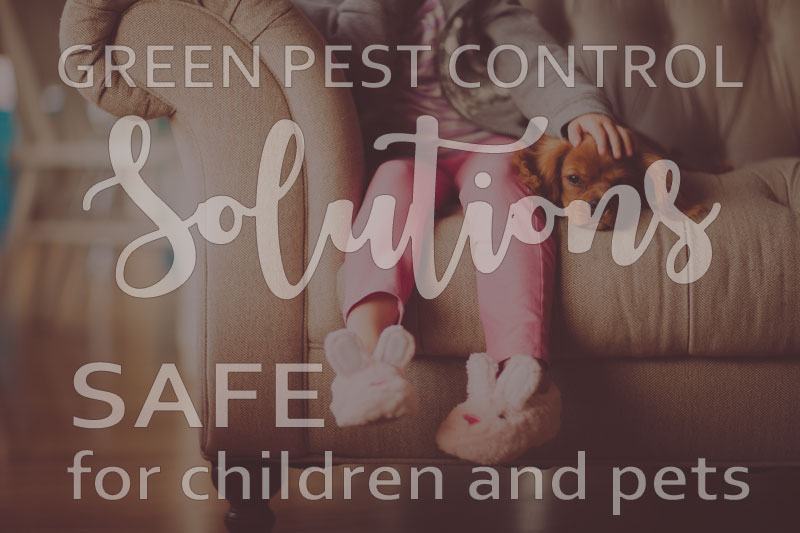 Effective Against Insects, yet Safe for Humans and Pets
Are you looking for professional green pest solutions without the use of chemicals? If so, call Titanium Laboratories now and ask for our Green Pest Solutions. Our green pest solutions are highly effective and super safe. Side-by-side, we tested our green pest solutions on bed bugs against the most common pesticides. As a result, the mortality rate was equal! Even better, the products we use for our green pest solutions kills all stages of bed bugs including adults, nymphs, and eggs. And, it targets most general household insects. This is terrific news for people who wish to limit their chemical exposure such as families with children and pets. It is also the perfect option for more sensitive environments like dorms, hospitals, and health-care facilities.
Eco-Friendly Pest Control
Produced from botanical ingredients and essential oils, including thyme oil, cedar oil, and/or rosemary oil, our Green Pest Solutions are safe for the environment. Because it is certified by the USDA, the primary product that we use is backed as a Biobased product. This means that it obtained a third-party endorsement for using renewable plant resources. All botanical pesticides that we use in our Green Pest Solutions program are EPA exempt 25(b) products.
Learn more about USDA Biobased products
More information about EPA Exempt 25(b) Products
No Hazardous Chemicals
Non-Toxic
No Harmful Environmental Effects
Non-Carcinogenic
Low-Odor
Titanium Laboratories cares about humans, pets, and our environment. Besides offering Green Pest Solutions, we do everything we can to minimize harm to the environment and its creatures. We utilize electronic bill paying to limit the paper that we consume. Also, we recycle all of our paper, cardboard, electronics, and ink cartridges. We minimize our use of electricity and gas whenever possible, and we use energy-efficient office equipment. It is our belief that if everyone makes an effort to minimize their footprint on our environment, we can leave a better world for future generations.
So, are you ready to get rid of those unwanted pests while keeping keeping chemicals out of your home? Go green – not only is it safe and effective, but the gentle natural fragrance smells nice, too!
Call Now for a Free Quote for Green Pest Solutions
Call 1 877-7 TITANIUM (1-877-784-8264) today for a free price quote. We'll be happy to provide you with all of the information you need without any sales pressure. You'll quickly find out why Titanium Laboratories earned a 5-star rating from our customers around the web.