Description
Titanium Laboratories' Do It Yourself Mold Swab Test Kit is the easiest and most accurate DIY mold test available on the market.
Most DIY mold test kits leave you with more questions than answers.  What good is a mold test if you can't understand the results or don't know how to correct your mold problem?  Titanium Laboratories provides you with a complete solution to your mold problem.  Find out why our Do It Yourself Mold Swab Test Kit is superior to our competitors' mold test kits.
Simple

Instructions

Our Do It Yourself Mold Swab Test Kit shows you exactly how to take a sample of suspect mold in your home or building.  In addition to clear, illustrative directions, we also provide a 2 minute video showing how easy it is to take a mold sample using our Do It Yourself Mold Swab Test Kit.

Tutorial Video:  Do It Yourself Mold Swab Test Kit

Once you have collected a sample of suspect mold, you just place the swab test in the *postage-paid addressed envelope, and mail it back to Titanium Laboratories.  It's that simple.
What You Can Expect
After your Do It Yourself Mold Swab Test Kit sample is submitted to the accredited laboratory for analysis, you will receive your results immediately from Titanium Laboratories along with the following information:
AIHA Accredited Laboratory Report
Your mold sample is analyzed by a mycologist at an AIHA accredited laboratory for the presence and identification of mold spores.  Any mold that is detected on your sample is included on the accredited laboratory report including a listing of each species of mold identified.  This will help you determine the best action to take to correct an existing mold problem in your home or building.  Not only will you find out if mold is present, but you will also be able to determine if it is common household molds or toxic black mold.
How to Interpret Your Mold Test Results
Many Do It Yourself Mold Swab Test Kits offered around the web merely provide you with a positive/negative reading for the presence of mold.  Others who work with accredited mold labs only forward you a copy of the lab report, but then it is up to you to understand what that lab report means!
Titanium Laboratories' Do It Yourself Mold Swab Test Kit includes a full guide that helps you understand your laboratory results.  We make it easy for you to interpret your mold situation.  Also, our guide includes a full glossary of each mold term and definition.
Mold Removal Resources
More importantly, the Do It Yourself Mold Swab Test Kit Guide provides you with mold removal resources.  The guide also provides you with step-by-step instructions for cleaning mold from all different types of materials including painted surfaces, clothing, household items, books, leather, furniture, etc.
Lastly, the guide provides you with practical information to prevent future mold problems.  Most of the recommended preventative steps are simple and inexpensive, and highly effective.
These recommendations are invaluable and save you hundreds of dollars when compared to hiring a professional mold inspector.
Expert Advice
Upon the receipt of your do it yourself mold swab test kit results, we are here to help you.  A certified mold inspector will answer any of your questions and help you determine the best mold clean up plan based upon your mold test results.
Included in the Do It Yourself Mold Swab Test Kit
Instructions that explain how to collect your mold sample using the sterile swab
Sterile Swab(s) ordered
Postage-paid, addressed envelope to return your sample for analysis.
Upon receipt of your mold sample(s), Titanium Laboratories will process your samples with the laboratory.  The analysis usually takes about 2 weeks.  Once your mold swab is analyzed, you will receive an email from Titanium Laboratories, Inc with the below information:
The original AIHA accredited laboratory report
DIY Mold Swab Test Report Guide:

Interpreting Your Laboratory Report
Mold Terms & Definitions
Mold Removal Resources

How To Clean Up Mold Infested Materials
Cleaning Mold From Specific Materials
Prevention of Future Moisture and Mold Infestations
Hiring a Mold Remediation Contractor
Best Do It Yourself Mold Test
Product Comparison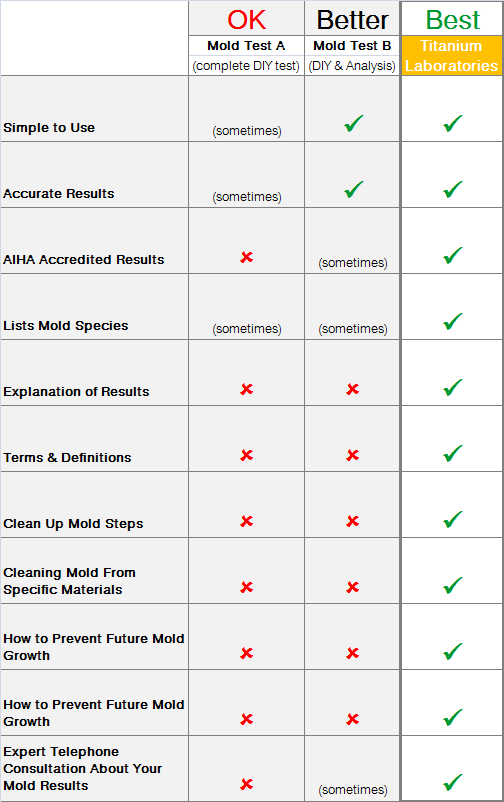 Made in the USA.
USA Shipping Only.
*Shipping cost includes two-way shipping.  Includes sending the swab to your mailing address, and the return shipping of collected sample. Expedited orders are available – please call 1-877-784-8264 if you require priority (2-3 days) or overnight shipping.

All swab test kit sales are final.
Save
Save
Save