Work Smart…Start with a Certified Mold Inspection
In all things, we think it's best to work smart. This includes solving mold problems. Certainly you wouldn't get an operation before knowing what's wrong in the first place, would you? Of course not. That's why a mold inspection is the best way to understand your mold situation. You'll find out why mold is growing and what kind of mold is present.
Or not.
Maybe it's something else. People spend lots of money on mold remediation, and sometimes, what's growing on the wall isn't even mold after all! Therefore, a certified mold inspection is the most effective solution to resolve your mold problem. In the long-run, a certified mold inspection may save you time and money.
On the other hand, what if you have toxic mold growing in your home and you haven't tested it? During the clean-up process if you disturb the mold spores, you can spread them throughout your entire home. Doing so can cause further damage and a health hazard.
These are the reasons why a Titanium Laboratories' certified mold inspection is the smartest way to approach your mold problem.
Three-Step Certified Mold Inspection:
Credentials and Certifications
Titanium Laboratories is a Licensed Mold Assessor in the state of New York.
The state of New Jersey does not offer mold licensure. We have been a mold inspection, mold testing and mold removal contractor since 2003. Furthermore, we are nationally certified as Certified Mold Inspectors (CMI) through MICRO. And, we are nationally certified as Certified Mold Remediation Contractors (CMRC) through MICRO. MICRO's intensive training is recognized and/or approved by the following organizations:
AIHA – American Industrial Hygiene Association
ACGIH – American Conference of Governmental Industrial Hygienists
NAHB – National Association of Home Builders
NAHI – National Association of Home Inspectors
NACHI – National Association of Certified Home Inspectors
MICRO also provides training to the U.S. Army, U.S. Navy, and Coast Guard. The certification earned by our mold professionals is issued by one of the most comprehensive programs available. As MICRO-certified mold professionals, we strictly adhere to the standards outlined in the teachings of the aforementioned organizations. Above all, we practice strict moral, ethical, and professional principles in everything that we do.
IAQA Member
We are a proud member in good standing with the Indoor Air Quality Association. (IAQA)
Visual Inspection
The first step in solving your mold problem is a visual mold inspection. Your mold inspection focuses on three important factors:
Signs of previous moisture intrusion
Findings of possible mold growth
Areas with a potential for future mold infestation.
Similar to a home inspection, a mold inspection typically covers your home's interior living space. When relevent, your mold inspection also covers your basement, attic and / or crawl space. Furthermore, exterior surfaces are examined for evidence of water damage and water intrusion. In addition, your mold inspection will identify potential future problem areas. Even though commercial properties differ greatly, commercial mold inspection protocols generally follow the same above basic guidelines.
Moisture Detection Using Thermal Imaging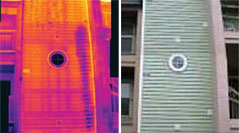 We all know that moisture in buildings is a building owner's worst enemy. Especially when it's hidden behind walls that are inaccessible during a visual mold inspection. Cutting edge technology enables us to identify moisture intrusion with minimal or no dissemblance of your structure. Equally important, it also allows minimal disturbance to your building's occupants. Utilizing infra-red technology, we solve this dilemma by capturing a high-resolution thermographic image of your building. Thus, thermal imaging enables us to pinpoint suspected sources of moisture that cannot be seen otherwise.
Mold Testing
When appropriate, your certified mold inspector conducts mold testing. Usually mold testing consists of a combination of surface sampling and / or air sampling. Each method depends upon your inspector's findings during your mold inspection. Of course your mold inspector consults on all mold testing options with you before collecting any samples.
Mold Surface Sampling
One example of mold sampling is surface sampling. Surface mold testing is used to identify a visible mold type at a distinct site. Surface sampling is useful in ruling out discolorations or stains that exhibit mold-like characteristics. Cotton swabs or clear tape strips are used to collect a small quantity of the suspect material. The sample is analyzed by a third-party accredited laboratory.
Another example is bulk sampling. Because they entail sending a piece of the affected material to the laboratory, bulk samples are less common. More often, a sample can be collected by using a swab or tape-lift.
Mold Air Sampling
For the purpose of understanding if mold is creating a potentially unsafe indoor air environment, air sampling is exceptional. We use state-of-the-art equipment for the most accurate results possible. Each air sample takes only minutes to collect. Air samples are sent to a third-party accredited laboratory for analysis. Ultimately, the information we gain from air sampling is critical in solving your mold problem.
Find out more information about mold testing.
Mold Report
Time and again, we are recognized by industry experts for providing the most thorough mold reports.
Upon receipt of the lab results from your mold samples, we analyze the laboratory's report. Then we evaluate it along with the data collected during your visual mold inspection. Your mold report includes in straightforward language:
Our findings during your visual mold inspection
Lab results from mold tests
A clear and final determination about your mold situation
Step-by-step mold removal/mold remediation protocol
Further corrective actions to prevent a future mold infestation
It is our mission is to get to the bottom of your mold problem in the smartest way possible. And, it starts with a certified mold inspection. Call Titanium Laboratories, Inc. today for more information.
Save
Save
Save
Save
Save
Save
Save
Save
Save
Save
Save
Save
Save
Save
Save
Save
Save
Save
Save
Save
Save
Save
Save
Save
Save
Save
Save
Save
Save
Save
Save
Save
Save
Save
Save
Save
Save
Save
Save
Save
Save
Save
Save
Save
Save
Save
Save
Save
Save
Save
Save
Save
Save
Save
Save
Save
Save
Save
Save